Lyon offers many possibilities of accomodation in terms of hotel, airbnb, B&B for all budgets. You can find them in usual lodging reservation websites.

Stay in downtown Lyon is recommended for enjoying the city. A combination of metro and tram will bring you to the conference in less than 30 minutes. You can check the access to the conference from your hotel site at www.tcl.fr.
This page will be uptated regularly.

The following hotels offer preferential prices for LAM-17 participants:
____________________________________________________________________________

Hotel Campanile Lyon Berges Du Rhône

Preferential price for booking before the 10/08/2019:
single room with breakfast: 80 €

daily tax per person: 1.65 €
Address: 4 rue mortier 69003 Lyon
Tel: +33 (0)4 78 60 03 00
Fax: +33 (0)4 78 60 01 95
Website: http://www.campanile-lyon-centre.fr/
____________________________________________________________________________

Ibis Styles Lyon-Villeurbanne Parc de la Tête d'Or

Preferential price for booking before the 01/06/2019:
single room with breakfast: 75 €

double room with breakfasts for 2: 85 €

daily tax per person: 1.65 €
Address: 130 Boulevard du 11 Novembre 1918 - 69100 Villeurbanne - France
Tel: +33 (0)4 78 89 95 95

____________________________________________________________________________
Ibis Budget Lyon Centre - Gare Part Dieu **

Address: 52, rue Villette - 69003 Lyon - France
Tel: +33 (0)4 72 68 25 30

For the preferential price please follow the link: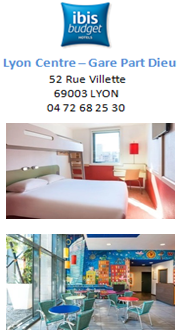 ____________________________________________________________________________
Ibis Styles Lyon Centre - Gare Part Dieu ***

Address: 54, rue Villette - 69003 Lyon - France
Tel: +33 (0)4 72 68 25 40
For the preferential price please follow the link: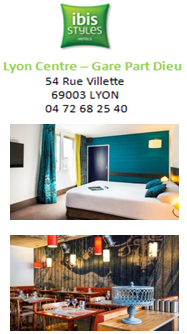 ____________________________________________________________________________
Hotel Celestins
Preferential price with breakfast: 99 €
4 rue des Archers, 69002 Lyon
Tel: +33 (0)4 72 56 08 98
Mail: info@hotelcelestins.com
____________________________________________________________________________
Residence Villemanzy

Address: 21, montée Saint Sébastien, 69001 Lyon
Tel: +33 (0)4 72 00 19 90
Website: http://www.belambra-villemanzy.fr/

For the preferential price please follow the link: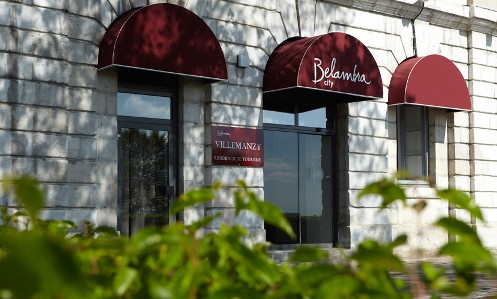 ____________________________________________________________________________
Hotel Mercure Lyon Centre - Gare Part Dieu ****
Address: 50, rue Villette - 69003 Lyon - France
Tel: +33 (0)4 72 68 25 20
For the preferential price please follow the link: